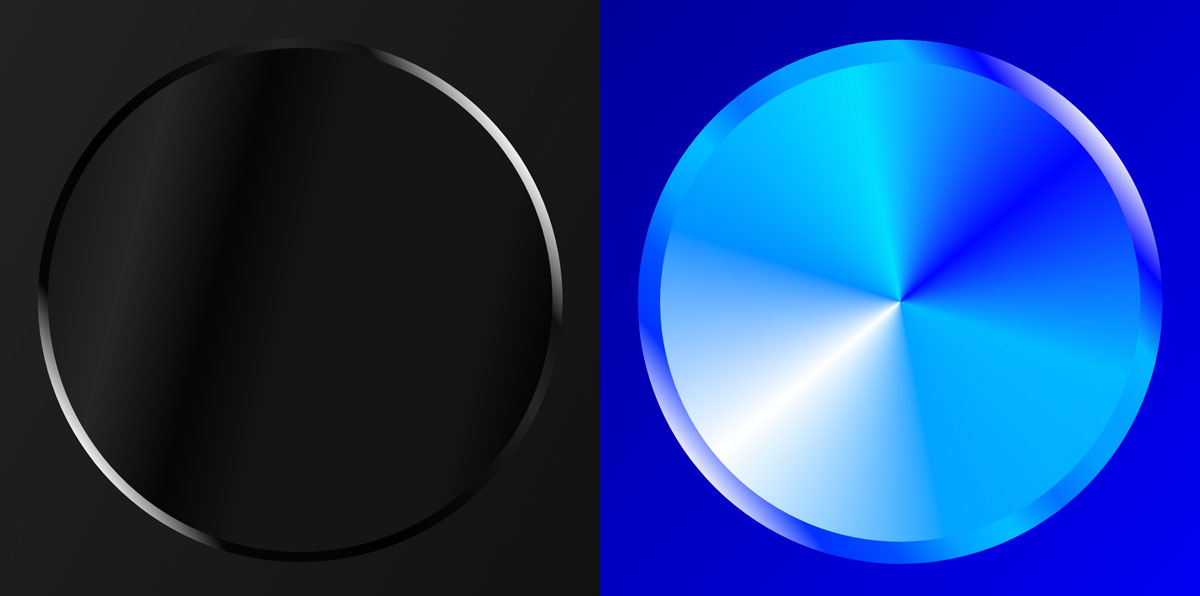 Coin, 2023
Coin tries to be something between a mint button, clock or spinner and a coin. It continues on my work focussing around interface culture, tapping into subjects like skeuomorphism and the phenomenology of software. Coin is born from endless webpages of CSS gradients, illustrator tutorials and stock images. Searching them always feels like you have found a treasure trove, but one that is endless. Priceless gems, but the worth slipping like sand between your fingers.
Coin has an intentional ambiguity that makes it perfect for a cross-chain environment. It exists in a space that's somewhere between coming and going, non-existent and minted, value and shit-coin, and being everywhere and nowhere, all at the same time.
Jan Robert Leegte - www.leegte.org

JPEG, 2022 (mobile device portrait orientation examples)
What is Coin?
Coin is a commissioned art work made for Mint.fun in their !fundrop series.
Coin is a generative series of unique NFTs and is fully assembled and stored on-chain as SVG. Coin is multi-chain, spread over Ethereum, Optimism, Base and Zora Network.
By introducing Coin to the various chains, it aims to seamlessly blend in and become a part of the vast and ever-expanding pool of NFT coins. A simple search for "coin" on any NFT platform will reveal the diverse range of NFT coins, and Coin aims to establish its presence among them.
When, where and how much?
Coin has been released for free for top collectors at mint.fun in an edition of 7777 Ethereum, Optimism, Base and Zora NFTs.

Launch date: 18-8-2023 / 12pm PST / 3pm EST / 9pm CEST.

Animated SVG
Coin is assembled by the smart contract as animated SVG. Coin has a clockwise or counterclockwise spin in a random speed.
Materials
Coin comes in the traditional materials, of Bronze, Silver and Gold, but also in Hyperlink Blue and Void.
Technologies used
Read all about how Luke Miles developed the smart contract from the JavaScript I provided.
About me
Since 1997 I have been making art on the Internet in the form of websites and digital-related work ever since, resulting in websites, apps, installations, videos, prints, sculptures, audio works and drawings. The networked computer is the central muse in my work, exploring all its wonders and peculiarities.
I don't use software to make art, I make art about software.

My work has been exhibited at The Whitechapel Gallery, Centre Pompidou, Stedelijk Museum Amsterdam, van Gogh Museum and the Ludwig Museum and acquired by various private and institutional collections. This is my sixth NFT collection after Ornament, Window, JPEG, Broken Images and Buttons.

Check out my work at www.leegte.org.
My work is represented by Upstream Gallery Amsterdam.